Ooh, much excitement coming soon in February! I do hope that lots of you will join in with the Columbo Bowl chilli cook-along…
I'm organising this to celebrate the 50th anniversary of the first episode of Columbo going out on TV – whoop!
Columbo fan and one of my test cooks Ian Baxter designed this!
Plus to celebrate the launch of the Columbo cookbook…
All you have to do for the cook-along is to rustle up Johnny's chili and send me a pic to be in with a chance of winning all kinds of Columbo goodies. Including this fab finger puppet from Ding Dong Designs, ho ho!
Full details on the cook-along can be found here. It's going to be so much fun. Absolutely everyone is invited!
Here's the fellow above, running around in the parking lot of Columbo's favourite chilli joint, Barney's Beanery…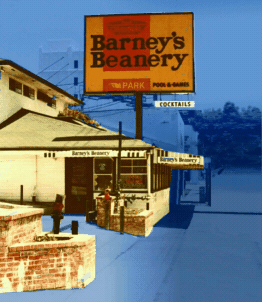 Do not be daunted by the length of this recipe, once you've gathered all the bits and pieces for Johnny's recipe, it's really quite easy. For a veggie version of Johnny's chilli – please go to the end of this blog post.
Here's the meaty version.
Johnny Cash's Chili
1 lb / 450g ground/minced venison (if available) or ground/minced beef (chuck or sirloin)
1/2 lb / 225g venison steaks (if available) or beef steaks, such as sirloin, or a rump roast, cut into bite-sized pieces
1 large onion, finely chopped
1 and 1/2 cloves of garlic, peeled and chopped
1 tablespoon canola/rapeseed oil
24 oz / 680g canned tomatoes
1 large green bell pepper
1/2 large red bell pepper
2.5 jalapeño peppers (optional)
1/2 habanero pepper (optional)
1 packet McCormick's Mild Chili Seasoning Mix (or your favorite brand)
Salt and pepper
1/4 cup / 32g chili powder (New Mexico chili powder if available)
1/6 cup / 21g cumin
1/2 tablespoon sage
3/4 teaspoon oregano
1/2 tablespoon cayenne pepper
15 oz / 400g can black beans, drained
15 oz / 400g can pinto beans, drained
15 oz / 400g can chili beans/kidney beans in chili sauce
12 oz / 340g can kidney beans, drained*
6 oz / 170ml beer
1/8 cup / 25g sugar
A handful of self-rising cornmeal*
In a large pot, heat the oil over medium-high heat. Brown the steak in the oil in batches, draining off some of the fat if necessary. Remove from the heat and set aside. In a separate frying pan, brown the ground meat over medium-high heat. Drain off the fat and set meat aside.
With the oil remaining in the pot, brown half the onions and garlic over medium heat until they are caramelized. Now add the well-drained ground beef and steak. Stir and heat it all up. Add the cans of tomatoes, the bell peppers, hot peppers (if using), and the remainder of the onions and garlic. Heat to a brisk simmer, stirring often.
John Carter Cash says that his dad would normally add the spices in the following order, first the chili packet, followed by some salt and black pepper, chili powder, cumin, sage, oregano, and cayenne pepper. John advises tasting the chili and once the spicing it is to your liking, drain the cans of beans and add to the mixture. Now taste again, as the beans mellow the flavor of the chili. Once the chili is to your taste, pour in the bottle of beer. Stir well. Cover and simmer for at least 30 minutes, stirring occasionally. Add sugar to your taste. Simmer, covered, for at least another 30 minutes, making sure to stir so the chili does not burn. Now add the cornmeal and stir in.
* If self-rising cornmeal is unavailable, you can make it yourself. Just combine 1 cup / 120g of cornmeal, 1/3 cup / 40g all-purpose/plain flour, 1 & 1/2 teaspoons of baking powder, and 1/2 teaspoon of salt. Put the leftover mix in a sealed container and save for your next batch of Johnny Cash chili.
Serves 6
For pudding?