Joy, joy, joy! Blog posts have popped up all around the world from the folks who joined in with the Treasury Cookalong. It brought many a tear to my glass eye! So much wondrousness! The cookalong was organised to celebrate the launch of the 50th Anniversary Edition of A Treasury of Great Recipes by Mary and Vincent Price. The best cookbook ever written! (IMHO as the kids say.)
There hereby follows a plethora of links to all the brilliant blog posts. Do as Vincent and Mary would have wished, I am sure. Make yourself a delicious Bloody Mary (with a sprinkling of MSG), or pour yourself glass of Californian wine, and go on a world tour of culinary appreciation. Just click on the links to travel all around the globe. Blog posts from the USA, London, Wales, Greece, Canada, Australia, Spain – crikey!
First entry in was from Dr Bobb of Doctor Bobb's Kitschen. Dr Bobb performed a brilliant double hander – Chicken in Champagne and Pineapple Nut Bread. I LOVE the video! Naturally, the leftover champagne was quaffed with gusto!
Next up, Greg of Greece, author of the brilliant James Dean cookbook and host of the Recipes4Rebels website, had a lovely Sardi's related party. Sardi's restaurant is famous partly for the many caricatures of stars which adorn the walls, including one of Vincent of course. Greg gave his guests the wherewithal to create caricatures of each other, what a great idea! I might pinch that sometime…
From the Treasury Greg made Cheese Knots, Asparagus Milanese and Sardi's Sauce. Ooh, yum yum!
In Wales, Gaz rustled up a Pineapple Nut Bread, goodness knows how he had time, as he's the maestro behind the Abertoir International Horror Festival which kicks off in Aberystwyth on Tuesday. Gaz doesn't blog, but he couldn't resist joining in, because he's fab. And I LOVE the pineapple top decoration! Are you going to Abertoir? Come and say hello if so, I'll be there Wednesday – Saturday. Victoria Price and Peter Fuller will be giving a presentation called Vincent Price: The Anglophile on Friday night, and this will be followed by a feast featuring recipes from the Treasury – can't wait!
Right! Back to the cookalong! Poppy from Grannie Pantries made some delicious-looking Blueberry Muffins La Postada and as it was Halloween when she made them, a bat got involved… SPOOKY!!!! I love Poppy's blog, she's obsessed with retro recipes, as am I…
Then Tina from VincentPriceMania sent a link to her Mexican Creamed Corn post – this is my absolute favourite of Mary and Vincent's recipes, Tina is now a fan too! It's sooooo good.
A couple of days later, Tina also made Old Fashioned Bread and Butter Pudding. Mmm. I haven't had Bread and Butter Pudding for years but I'm tempted to have a go at Mary and Vincent's recipe now I've seen Tina's blog post. Good old fashioned comfort food!
Annie from Kitchen Counter Culture had a moment of panic when she couldn't find her original 1965 copy of the Treasury, she had a terrible feeling that it had found its way into the wrong box during a recent de-clutter. Can you imagine?! Luckily she found it, phew. I love her photos of her copy of the Treasury, inherited from her mum, it's obviously been well used! Annie made Gateau Grand Marnier, and it looks yummy.
Lauren from The Past on a Plate made Blueberry Muffins La Posada and Ranch Eggs. Coo, they don't half look good!
Lauren was my first ever food blogging friend. I met her through cyberspace when I was googling the Treasury of Great Recipes many moons ago, and I stumbled upon her lovely blog. We met in person in London a couple of years later. In this new cyber age it's just brilliant to meet someone you've only encountered online before..
That happened yesterday too, at the launch of the 50th Anniversary edition of the Treasury at Harrods. More on that in another post. But it was SO LOVELY to meet Miriam Figueras and her mum, who both came all the way from Spain. I had previously only know Miriam through her lovely blog Cine Gratia Cinema, and she bravely made Souffle au Grand Marnier.
Doesn't it look fabulous? Her mum told me in person how delicious this was! Soooooo lovely to meet you both, and thanks for coming to Harrods!
The next food blogger I would definitely like to meet in person sometime, is Yinzerella, based in Baltimore, mistress of Dinner is Served 1972. It didn't surprise me at all, that Yinzerella attempted something that most people wouldn't, a dish that involved turtle meat. I LOVED her story about the slip of paper that inspired her to make a Vincent Price Bloody Mary too. Bookbinders Snapper Soup and a Bloody Mary from the Treasury.
Clara from heritagerecipebox got into the spirit (!) by making a New Fashioned Cocktail (not in the Treasury, but a cocktail proposed by Vincent when he was advertising Angostura Bitters).
That looks tasty! I want one of those right now… Clara kindly sent me a link to a recent radio feature on the new edition of the Treasury, I haven't had a chance to tune in yet, but I will. Here's the link. Thanks for joining in Clara!
Tracy of Tracy's Vintage Corner made a delicious-looking Old Fashioned Bread Pudding.
I loved Tracy's autumnal photo of her copy of the Treasury, partly because I am a nosy-parker and I love seeing glimpses into other bloggers' homes…
Tracy's blog is new to me, but I'll be following it from now on for sure. Lots of lovely vintage crafts and recipes.
Super stylish blogger Ruth, from Mid-Century Menu made something I've wanted to try for ages, Crab Puffs, don't they look lovely?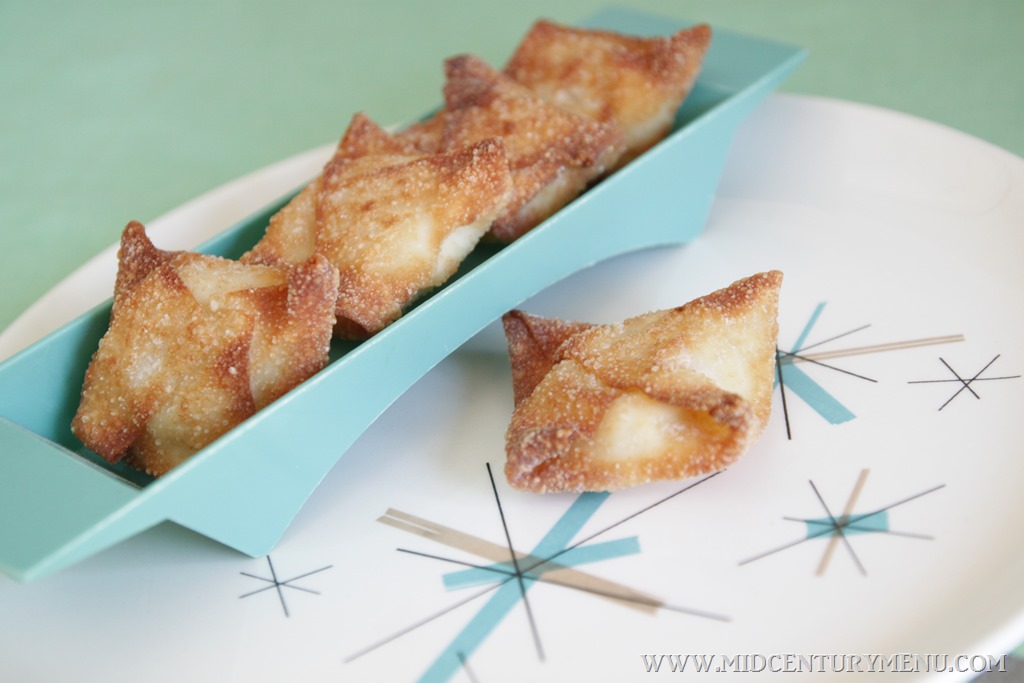 My favourite thing about Ruth's blog is the reaction shots she posts up of her squeeze. He tastes everything and his expressions say it all sometimes!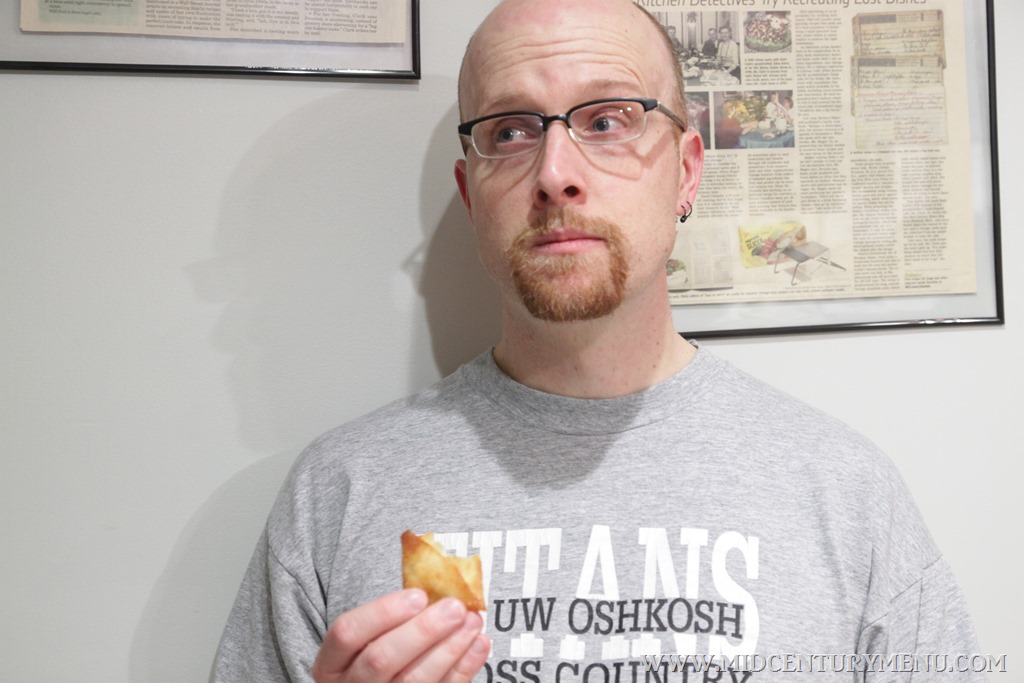 This face means: "Good! Very crab-y. They have fewer spices that I am used to, but I think I like it."
In Canada, Lisa from Brain Meets Keys put together a spectacular brunch, trying out three recipes from the Treasury in one go! Blueberry Muffins a la Posada, Buckingham Eggs, and Champignons Marie-Victoire – look at that spread! Lisa has become a pen pal of mine. I am feeling very guilty that I haven't replied to a good old fashioned letter – yes, one that came in the post – that Lisa sent me. But I will, one day! When she is least expecting it – ha ha!
My partner in many crimes, Battenburg Belle, who lives round the corner from me here in London, made me laugh when she told me she was taking her copy of the Treasury to France in her hand luggage, so she could make something there for the cookalong. It is a BIG BOOK and weighs a tonne. But she did it, and her report on her French Treasury extravaganza is here – Caesar Salad, Sea Bream Biscay Style and Petits Pois à la Française – which we always call "peas in the French style". We love them. That looks like something you'd get in a restaurant!

Taryn of Retro Food for Modern Times based in Melbourne, Australia initiated the recent Old Bay October challenge. She stepped up to the plate once more with her Chicken in Champagne Sauce. and also introduced me to a brand new concept. The JAFFLE! Know what this is? I didn't! Check out Taryn's post on her new invention, the Buckingham Eggs Jaffle – based on a Treasury recipe of course!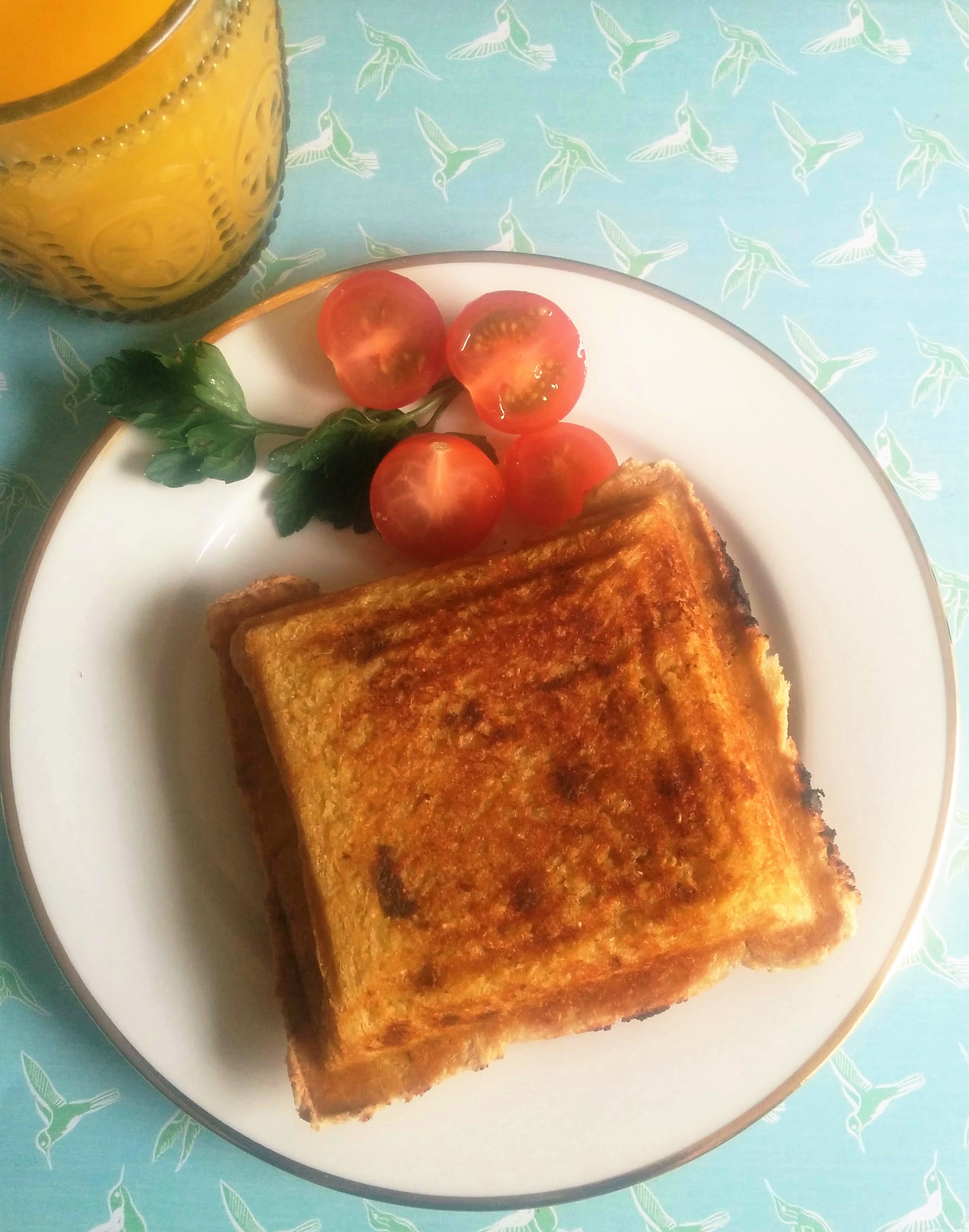 Oh and Taryn, when I saw the picture of your mirror I almost cried! Cheers to you drinking champagne all alone, as I do too whenever I get the chance! In fact, cheers to you all, #TreasuryCookalong chums!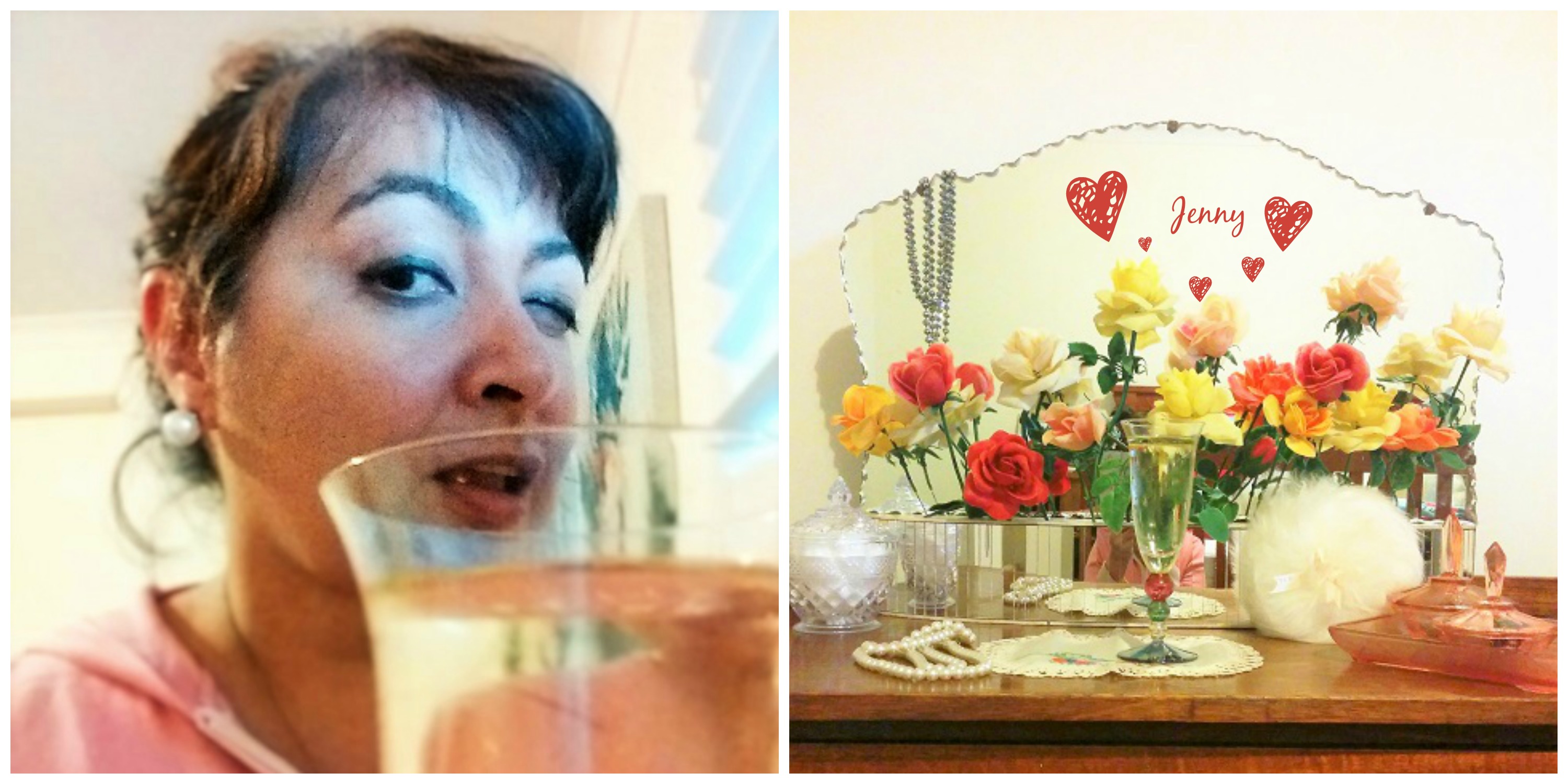 Mary and Vincent's daughter Victoria Price will be reading all of the blog posts and awarding a prize of a copy of the new version of the Treasury to her favourite. Runners-up prize will be dinner at Silver Screen Suppers Towers in London OR if you are somewhere far away, a box of British foodie goodies through he post.
I'm taking a break for a while, off to Wales for Abertoir and a bit of a holiday. When I'm back, I'll tell you all about the Treasury book launch at Harrods, what a lovely morning!
Until then – here's the link to Victoria's website and to the Amazon page for the Treasury. It's exclusively available from Harrod's until the 14th November so if you can't wait to get your hands on a copy, get yourself down to the food halls!