We had such an amazing afternoon at Staying Cool's apartment hotel atop the Rotunda in Birmingham on Sunday.
To celebrate Peter Falk's birthday a group of Columbo superfans gathered together in a beautiful Staying Cool penthouse suite.
We raised our glasses to toast the best television show ever and ate Johnny Cash Chilli. The chilli was cooked by legendary chef Alex Claridge of The Wilderness and it was utterly delicious.
It was a perfect afternoon!
I gave a little half an hour talk about how I came to write the Cooking With Columbo book, and everyone got a copy to take home.
I am very proud to say that the event raised £400 for LoveBrum
and I met some truly lovely people.
One thing that really made me laugh was talking to a guy who shared his birthday with Peter Falk.  He had a mighty hangover and did NOT want to leave the house where he was quite happily watching an afternoon episode of Columbo.
His missus had bought tickets to the event as a birthday surprise for him, and he really wasn't happy about leaving the house.  But when he got to the top of the Rotunda and found out the afternoon was all about Columbo he cheered up no end – haha!  He proudly showed me photos on his phone of him posing with the statue of Lieutenant Columbo in Budapest.  I was JEALOUS!
Another couple told me at the end of the event that they were going straight home to watch an episode of Columbo – hurrah!
It was so lovely staying at Staying Cool's apartment hotel again, it makes you feel like a million dollars.  Next morning we just looked at the view endless times
and lazed around in fluffy bathrobes.  When I spotted that there were oranges in the fridge when we arrived, I was already looking forward to my morning OJ, whizzed up in the electric juicer that was provided in the kitchen.
It's the little touches like this that make Staying Cool such a wonderful place to stay.  If you are going to Birmingham, book yourself in there!  The apartments are beautiful, and they are such lovely people to take a chance on staging something quirky like a Columbo event to celebrate Peter Falk's birthday!  The Lieutenant would have loved it I am sure!
I took up a bunch of saltines that Caroline Frick had brought over from Texas so that we could all eat our chilli just as Columbo liked to, with saltines crumbled in.
As Columbo said himself, "Y'see, it's the crackers that make the dish."
Thanks a million for your divine chilli Alex and thank-you so much to the lovely Tracey & Gavin for hosting such a wonderful Columbofest!
Gavin is campaigning for me to write a cookbook to accompany Murder, She Wrote next (on a typewriter in my kitchen naturally)…
There are 69 episodes of Columbo and it took me about 3 years to write the Cooking With Columbo book.  I've just checked and there are TWO HUNDRED AND SIXTY FOUR episodes of Murder, She Wrote.
WHAT?!
Mind you, as one of the Columbo event guests suggested I could call the book Murder, She Cooked, I am sorely tempted…
It might take me 10 years, but I'm already planning the book launch event in a Staying Cool penthouse suite!
Also, watching Murder, She Wrote might give me the push I need to start doing the Angela Lansbury workout…
There's a complete set of the TWO HUNDRED AND SIXTY-FOUR EPISODES on eBay at the moment for £99 – I love the fact that you can get it on the "never-never" for £8.90 per month…
I'm already missing Birmingham and will start saving up for the Murder She Wrote boxset and huge amounts of popcorn to eat while I am watching it.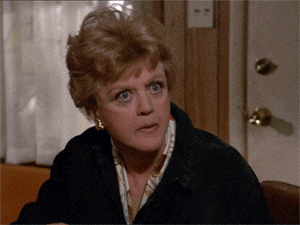 Here's the superb recipe for Johnny Cash's family chilli, or chili with one "l" if you are in the USA.
Johnny Cash's Chili
1 lb / 450g ground/minced venison (if available) or ground/minced beef (chuck or sirloin)
1/2 lb / 225g venison steaks (if available) or beef steaks, such as sirloin, or a rump roast, cut into bite-sized pieces
1 large onion, finely chopped
1 and 1/2 cloves of garlic, peeled and chopped
1 tablespoon canola/rapeseed oil
24 oz / 680g canned tomatoes
1 large green bell pepper
1/2 large red bell pepper
2.5 jalapeño peppers (optional)
1/2 habanero pepper (optional)
1 packet McCormick's Mild Chili Seasoning Mix (or your favorite brand)
Salt and pepper
1/4 cup / 32g chili powder (New Mexico chili powder if available)
1/6 cup / 21g cumin
1/2 tablespoon sage
3/4 teaspoon oregano
1/2 tablespoon cayenne pepper
15 oz / 400g can black beans, drained
15 oz / 400g can pinto beans, drained
15 oz / 400g can chili beans/kidney beans in chili sauce
12 oz / 340g can kidney beans, drained*
6 oz / 170ml beer
1/8 cup / 25g sugar
A handful of self-rising cornmeal*
In a large pot, heat the oil over medium-high heat. Brown the steak in the oil in batches, draining off some of the fat if necessary. Remove from the heat and set aside. In a separate frying pan, brown the ground meat over medium-high heat. Drain off the fat and set meat aside.
With the oil remaining in the pot, brown half the onions and garlic over medium heat until they are caramelized. Now add the well-drained ground beef and steak. Stir and heat it all up. Add the cans of tomatoes, the bell peppers, hot peppers (if using), and the remainder of the onions and garlic. Heat to a brisk simmer, stirring often.
John Carter Cash says that his dad would normally add the spices in the following order, first the chili packet, followed by some salt and black pepper, chili powder, cumin, sage, oregano, and cayenne pepper. John advises tasting the chili and once the spicing it is to your liking, drain the cans of beans and add to the mixture. Now taste again, as the beans mellow the flavor of the chili. Once the chili is to your taste, pour in the bottle of beer. Stir well. Cover and simmer for at least 30 minutes, stirring occasionally. Add sugar to your taste. Simmer, covered, for at least another 30 minutes, making sure to stir so the chili does not burn. Now add the cornmeal and stir in.
* If self-rising cornmeal is unavailable, you can make it yourself. Just combine 1 cup / 120g of cornmeal, 1/3 cup / 40g all-purpose/plain flour, 1 & 1/2 teaspoons of baking powder, and 1/2 teaspoon of salt. Put the leftover mix in a sealed container and save for your next batch of Johnny Cash chili.
Serves 6